*** Update from the lab on 24th May It seems that some good bacteria are posinf as e. Coli ***
Please return any 27/3 Teddys to where you bought them or call me on 0419 310 475 for a refund. The whole story is below.
I recently put in a few batches of cheeses for testing. I only put one cheese for each Teddy. I put in 3 batches of Teddy. One from 18th November last year – very old and funky, one from February and one from 27/3/19. Other cheeses were a couple of dates from the signature range and an old oozy Johannes and a Tomme de Burbank.
To ease the process, I brought cheese knives down from the kitchen. Our commercial dishwasher wasn't on. So I got the really hot tap water (goes up to 77°C) and detergent and washed them and sanitised them. The containers had been around a long time.
The Teddy from the 27/3 came up with a fairly high e. Coli score. We notified our stockists who had the Teddy immediately. They went off the shelves. Then after managing to speak to the lab, notified Safe Food Queensland and Food Standards Australia * New Zealand (FSANZ). A recall was in place. There are only 8 Teddy's "in the wild". We know exactly who one went to. So make that 7.
We suspected that contamination occurred during packaging, the sampling process (knife, containers has been around a while) or some sort of other error. Our cheesemaking process is very meticulous.
We put in 5 more of the Teddys. One from each day of packaging. One I retrieved from The Standard Market Company at James Street, one from leftover market stock.
The test is a more rapid test – 48 hours. The full on test takes longer. All of the cheeses came back negative.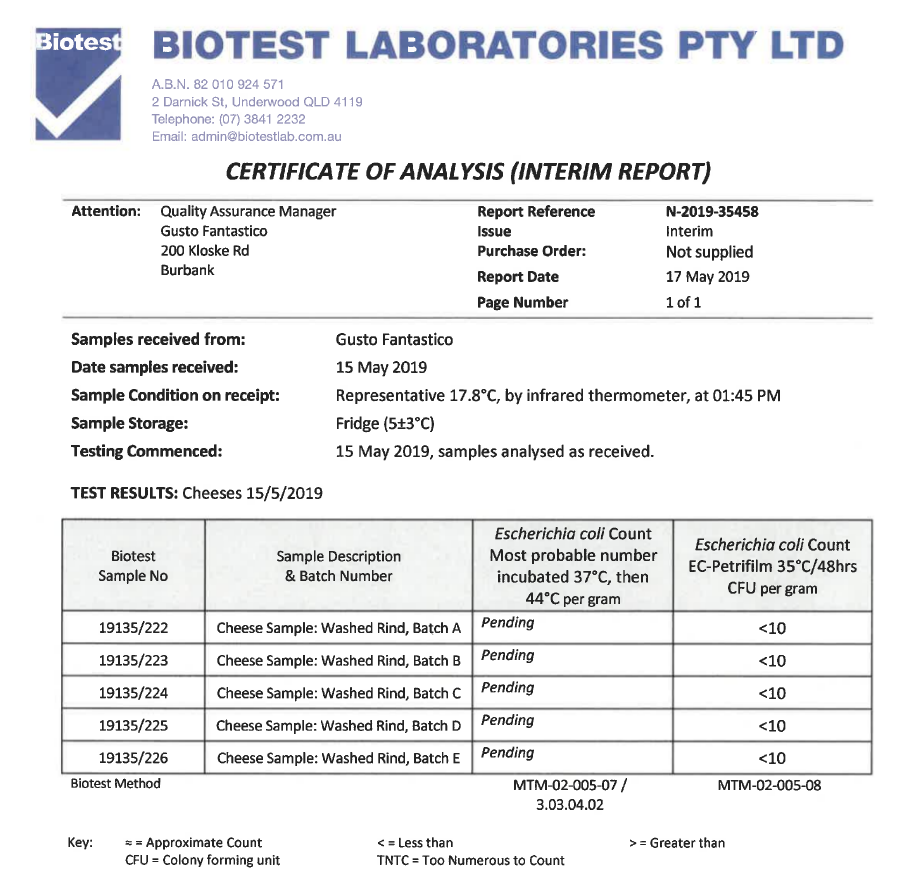 .
With washed rinds you spread the good and bad bacteria from cheese to cheese. I swap the cheeses around. If one is buggered, they are all buggered. You put a brush or piece of cloth in the brine and touch each cheese. I swap the order of the racks etc. So it didn't happen during the cheesemaking or affinage process.
Obviously, the Teddy problem was either a sampling error or once off in packaging or a testing error. If it was a washing issue they would have all shown a problem.
We take food safety very seriously and go to extreme lengths to ensure that we produce the best, safe food. This is certainly a wake up call!
There were 72 cheeses in the batch. Five came up good. One bad through dubious handling. So the Teddy problem was either a sampling error or once off in packaging or a testing error.
We have been emotionally drained and all of our time has been spent on dealing with this, buying food for our pets and doing the minimum work in the factory. Six days of milk have been tipped this week. That is 300 Jessies. We have a hay bill of $1000 a week and rising to $25 a bale (x 50) plus grain of $200 a week. Our next biggest cost after power is Safe Food – about $3500 a year. Then BCC $731 only for cheese tasting – you don't need a licence for selling – but if you cut the cheese or watermelon or put olive oil on bread not crackers for tasting you must pay. Then every council for tasting at every stand!
Thank you for your support and understanding.