I talked about making a washed rind for a long time. I had made some great washed rinds for the house a few years ago. Those were along the lines of a Chevrotin de Aravis. However, I did not see those as a good cheese to make in production. In Australia, nearly all washed rinds are made like an Australian camembert-style cheese and then washed. We wanted to do something different. The red bacteria and other cultures available in Australia weren't inspiring. Thankfully, the Australian Specialist Cheesemakers' Association have made STANDA cultures available. So we started developing the Teddy. All of our cheeses (except West End) and have been developed by Peter and don't follow a standard recipe we got somewhere.
Who is Teddy? Teddy is our Buck. When we picked up Teddy, we found out that his registered name was Stinky. We decided he was a nice young boy – and he was younger then we were led to believe – and we couldn't call him that. Many of our goats are named after blues and jazz singers. There was a blues guitarist called Teddy "Kid" Morgan. So the young fellow became Teddy.
So when we made a stinky cheese, we named it after Teddy.
The Teddy cheese is made using the same technique as Époisses from Bourgogne. The Teddy is made using a slow fermentation and washed with a light brine. Later it is also washed with a Brandy. This affinage process is at least 4 weeks. Originally, I used Armagnac – it had more interest than Cognac. I am now using an Australian brandy. We try to use Australian ingredients where possible.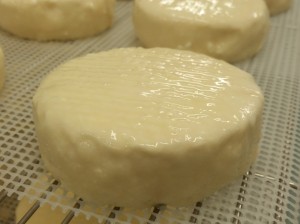 I originally didn't like the rind (Geotrichum Candidum) I was growing when the cheese was young. I found it was a bit papery. So I tried another Geotrichum. It grew too wavy for the cheese I was trying to make. With all of the diverts in the rind it was not a good cheese to wash for 4 weeks. So these became the Teddy Gone Wrong. The cheese has been popular and disappears quickly so we decided it should stay but needed a name.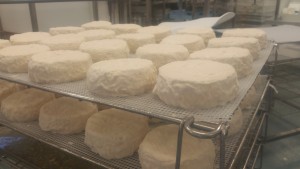 Our first born is Josie. She actually turned 5 the other week! Last year she had 1 boy called Joseph. Joseph is an extremely intelligent young man full of character. As a kid, we had to let him find his way from the shed to Josie in the paddock. Otherwise, he would take other kids with him and they would be distressed. He was very difficult to contain and would bound around with us when we did tasks outside the shed. We decided we couldn't give him away and keeps Teddy company. Teddy is also Joseph's father. So Joseph is an ideal name for the Teddy Gone Wrong.
The Joseph is lightly washed in a light brine a few times during its period in the maturation room.
Recently, Wendy from The Cheeseboard commissioned Frolicking Goat to make a cheese for Newstead Brewing Company. The cheese was to be washed in their India Pale Ale. In the short time-frame, we decided to make these Josephs washed with the beer. The story on the IPA can refers to the Battle of Brisbane and refers to the humour and cheekiness of Queenslanders. Josie's only daughter is Mary-Jo. She was only 1kg when she was born. Most kids are around 3kg. She could stand under her up and reach up to drink. She packs a lot of humour and cheekiness in to her small frame – well currently not small because she is expecting. Now there was also a humorous incident that occurred when she was having one of the many Battles of Burbank. However, sometimes what happens in the shed should stay in the shed 😉 So those cheeses are named after Mary-Jo.
In that same batch, some cheeses were washed with a Rosé. It is only right to keep that cheese in the family. So that cheese is named after Josie. Josie is a lot of fun and a real clown.
So now you know!
The Cheeseboard currently has some Teddys and Josies. Peter & Lyndall will be selling Teddys and Josies at The Mould Cheese Festival in Sydney this weekend.